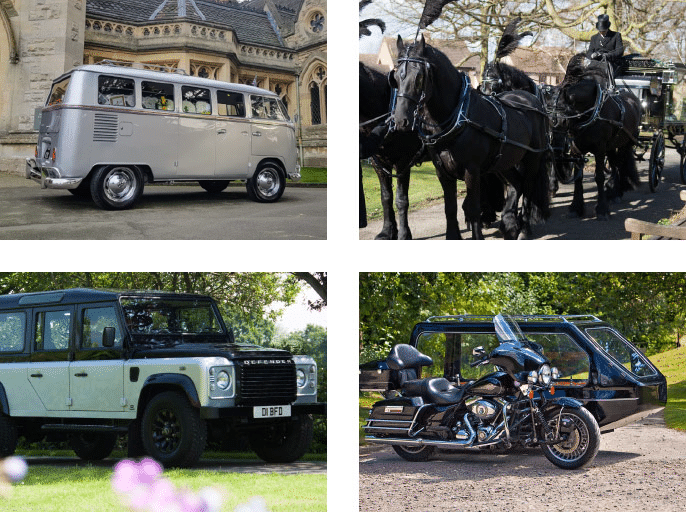 Let Bennetts Funeral Directors
assist you in creating a unique and special funeral that perfectly reflects the life of your loved one. 
There are many ways to say that final goodbye, however, unless there are specific instructions left by a loved one as to funeral arrangements, grieving family members, often in a state of shock, may find it particularly difficult to make decisions in relation to arranging a traditional funeral if they feel that it would not quite be in keeping with the deceased's personality or lifestyle. They often will not realise that they had many other options available to them until after the event. This, can sometimes, unfairly, lead to the bereaved feeling upset that they could have done better.
Over recent years the team at Bennetts Funeral Directors has witnessed changes in what grieving families would like when making funeral arrangements for a loved one. Increasingly families require a more tailored service which sometimes includes less religious content and more elements that celebrate the life lived, instead of focusing on the loss. Listening to our client's wishes Bennetts Funeral Directors have expanded the styles of funeral available to the families we care for.
Non-Religious Funeral Services
Also known as a humanist or atheist funeral, a celebration of life service or memorial ceremony, this type of funeral may be appropriate for the deceased and/or their loved ones if they do not hold dear to a particular religious belief.   Although you or your loved one may not have a connection with a church our local clergy will welcome their parishioners to give support and help when they can.
A non-religious funeral will tend not to have traditional prayers or hymns.
It's also important to remember that since funerals themselves have no legal status, humanist funerals or non-religious funerals – like all others – can be held in a variety of places, although in practice most are held in crematoria, cemeteries, or woodland burial sites.
Woodland Funerals and Green Burials
Woodland funerals and green burials and are situated in natural settings offering beautiful, tranquil resting places.  The planting of a natural memorial at a woodland burial site, such as a tree, and the placing of a simple wooden or bronze plaque instead of a traditional headstone, represents a natural burial and return to nature.
Woodland Funerals at GreenAcres Woodland Burial Grounds
A very peaceful place to be, GreenAcres Woodland Burial Ground in North Weald is set in 52 acres of beautiful mixed woodland, the stunning facilities of this natural burial site where alternative funerals are held, help to make this one of the most idyllic places for unique funerals to be held in and around Essex.
It's not just funerals that are changing – alternative funeral transport available from Bennetts Funeral Directors…
Land Rover Defender, this unique vehicle can be accompanied by our matching Land Rover Defender passenger transport vehicle.
The following are available as Motorcycle hearses: –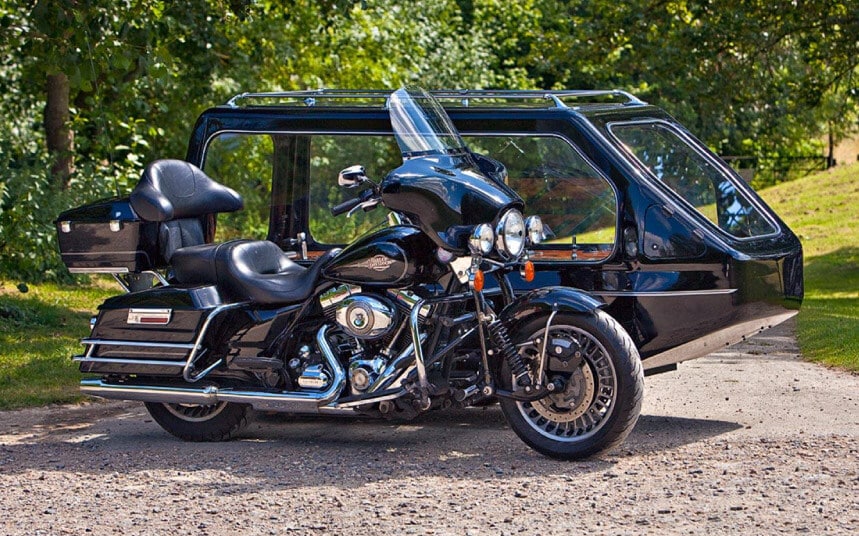 The Harley Davidson Road King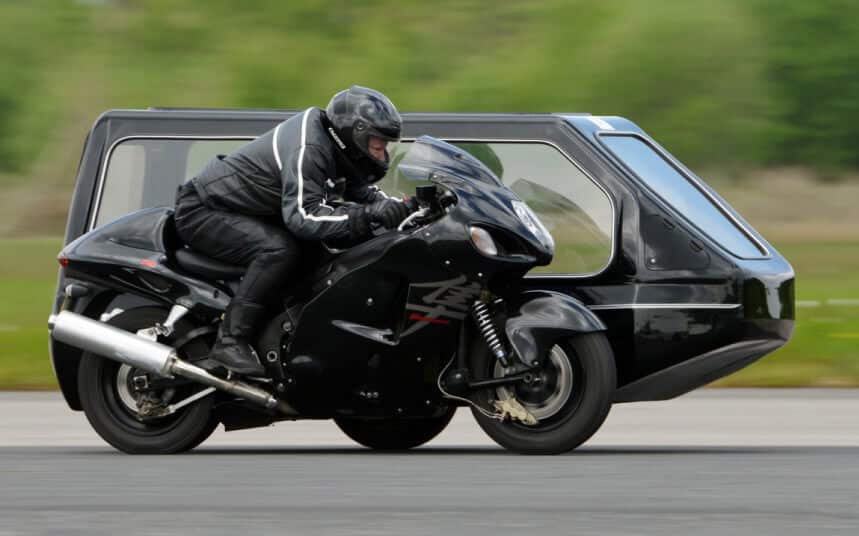 The Suzuki Hayabusa Hearse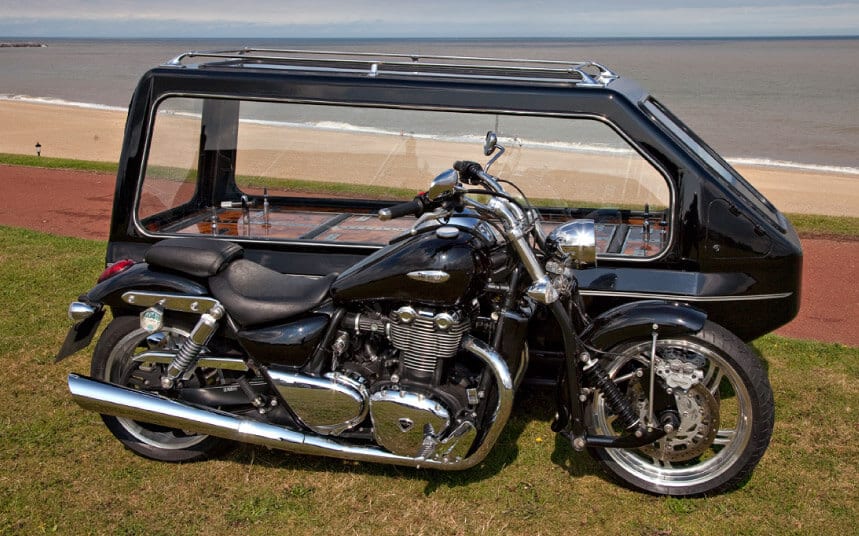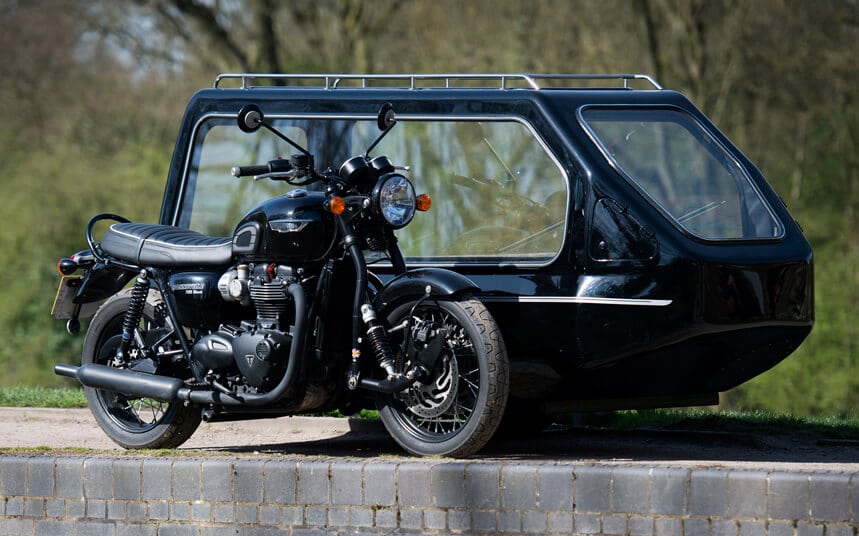 The choice is yours – alternative funerals and funeral transport
So, to summarise, the first and most important thing to realise when it comes to arranging a funeral for a loved one, is that you do have a choice. If the Funeral Director you have chosen doesn't seem to be offering you a choice, then you should feel to look around and speak to other Funeral Directors. 
The second thing is to give yourself time. There is no legal stipulation in relation to the length of time which should or should not elapse between death and a funeral, so give yourself time.   Avoid,
rigid inflexible Funeral Directors, who are unwilling to be approachable or flexible enough to work with you to arrange the funeral that you wish.
Let Bennetts Funeral Directors be your funeral director by choice
If you are interested in finding out more about alternative funeral planning and unusual hearse hire for your funeral, why not talk to Bennetts Funeral Directors, please call on 01277 210104.
Bennett's is your local Funeral Director for Harold Hill