Guide to the funeral cortege procession
Funeral procession etiquette and what you need to know about driving in a funeral cortege.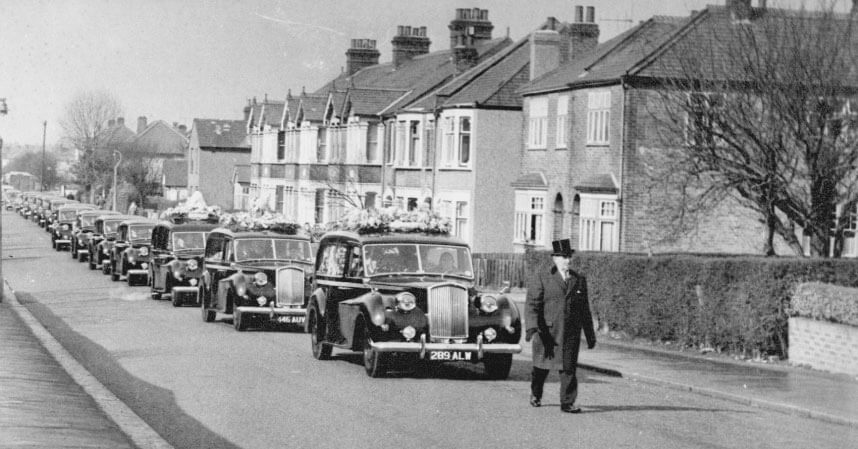 A funeral procession is also called a funeral cortege. It is a slow, solemn and respectful convoy of vehicles, which conveys the deceased and the mourners from the starting point to the site of the funeral ceremony and then (if appropriate) from the site of the funeral ceremony to the crematorium or graveside.
Who will arrange the funeral transport?
The person arranging the funeral, usually a member of the family or a close friend will arrange funeral transport and decide who will be in the cars or funeral limousines following the hearse. Many of the people going to the funeral will use their own cars and may choose to meet the procession where the service is being held.
Traditionally the funeral cortege procession will leave from the home of the deceased, however, it can leave from the home of a close relative, reception venue, care home, etc. The family, when arranging the funeral, may decide to leave from the address to where people will return after the funeral. Or, mourners may decide to meet at the place of service.
We are proud to have a beautiful fleet of  Funeral Transport Vehicles at your disposal. Including our elegant fleet of classic Rolls Royce limousines and hearses, our Mercedes fleet, Horse Drawn Carriages, and stunning Unique Funeral Transport such as our 4×4 Land Rover fleet. So if you need further advice on organising a funeral cortege or would like to discuss funeral transport options, please contact a member of our staff who will be only too happy to help.
Funeral Transport from your local funeral director
Call us on 01277 210104 or 01277 627492, we are here to help.