Our funeral directors guide to carrying the coffin
In many cases, friends or family would like to act as Pallbearers. If you are arranging a funeral you will need to decide who will carry the coffin.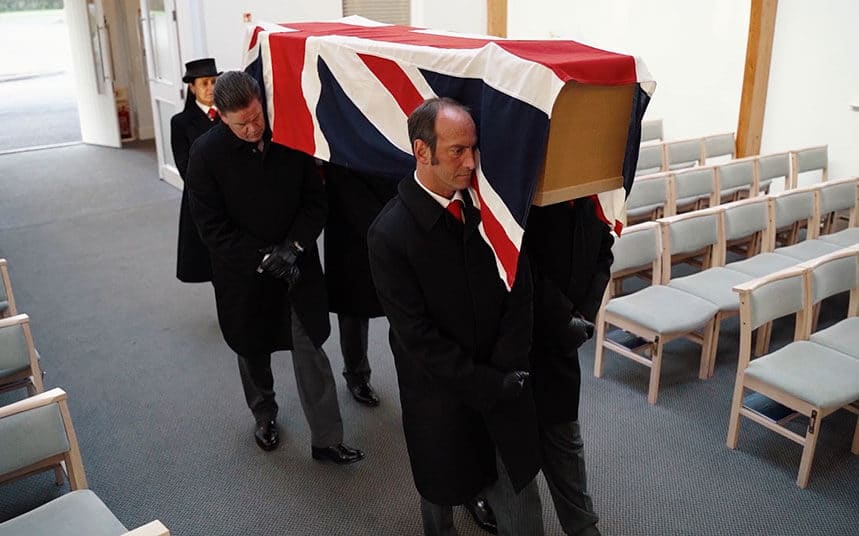 A Pallbearer is traditionally one of the people who will help to carry someone's coffin from the hearse to the funeral venue. In addition, if the deceased is being buried they will continue carrying the coffin to the grave. As a rule, four or six Pallbearers carry or escort a coffin at the funeral. As a rule, the people chosen to do this are usually very close family members and friends.  Moreover, family and friends may ask to carry out this important funeral role.  We will discuss this with you when making funeral arrangements.
In spite of the fact that it is an honour to be asked, you do not have to accept the role of Pallbearer. For this reason, our Funeral Directors offer the helpful suggestion of forming a guard of honour to also walk beside or behind the coffin on its final journey.
Carrying the coffin requires experienced Pallbearers
Under the guidance of our insurers, we would actively dissuade untrained bearers from carrying a coffin. However, should a request be made to bear the coffin, then a training session will be provided. We would like to stress that our bearers are very experienced and highly trained for their work, and therefore our professional team of bearers is preferred.  We do, however, recognise that the opportunity to bear the coffin of a loved one is very important to some.  For this reason, should family and friends wish to carry the coffin our bearers are in attendance throughout the funeral proceedings, consequently minimising any risk.
If you are arranging a funeral for a loved one, please feel free to ask
Bennetts Funeral Directors
for advice if you or any family members are considering carrying the coffin.
Call us on
01277 210104
or
01277 627492
, we are here to help.