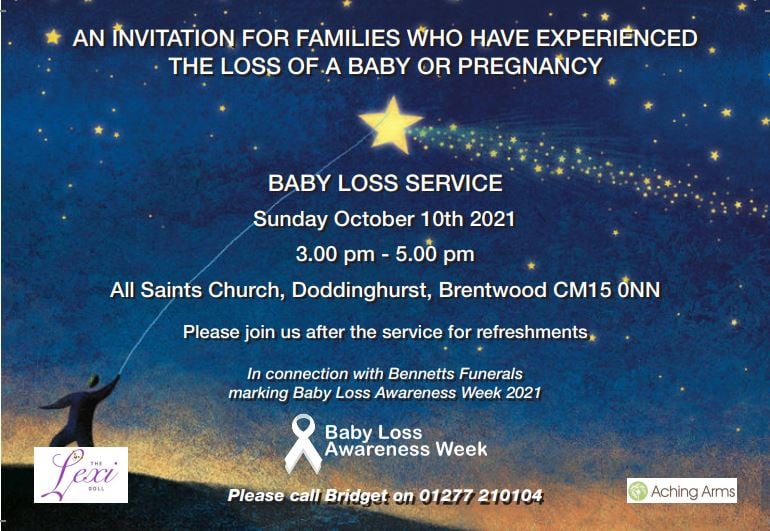 You are invited to attend a very special service during Baby Loss Awareness Week 2021.
A remembrance service for people who have lost a child at any stage of pregnancy, at birth or in infancy, whether the loss is recent or 80 years ago.
A time to unite and commemorate.
Sadly, some babies are lost during pregnancy, birth, or shortly afterward. The death of a baby is one of the most painful things that can happen to a family. You may never really get over your baby's death. But you can move through your grief to healing. As time passes, your pain eases. You can make a place in your heart and mind for the memories of your baby. You may grieve for your baby for a long time, maybe even your whole life. There's no right amount of time to grieve. It takes as long as it takes for you. Over time, you can find peace and become ready to think about the future.
Who can attend the service?
All are welcome regardless of the type or circumstances of loss they have experienced. Whether you have been through early or late miscarriage, missed miscarriage, an ectopic or molar pregnancy, stillbirth, neonatal or early infant loss, or any other type of baby or child loss. 
The services are for women and men, as well as for their children and their extended family and friends, whether the loss is recent or historic. In addition, anyone who has been through fertility treatment or who has never been able to have children for whatever reason is most welcome.
How will attending this service help me?
Loss at any stage is traumatic. Early loss is often not acknowledged or discussed, with commemorative services seldom taking place. Services for babies who are stillborn or lost in early years, are usually conducted while parents are in a fog of grief and pain.
The services will give you the opportunity to stand with other people 'who know' the pain of losing a child and offer you a time to publicly acknowledge and remember children who have been lost.  If you need to say goodbye to a baby or to grieve, or you want to come along with a friend who needs to say goodbye, please join us.
Free Bereavement Support Services
Bennetts Funeral Directors understand that by talking about baby loss, we can help others feel less alone.
We offer a full range of free bereavement services and support aimed at assisting you when you need it most.
With this in mind, If you require further information about the Baby Loss Service or need someone to talk to, we are here to help  Please call Bridget on 01277 210104